The exam went… um… fine. I am sure I did well, but I still HATE having to just throw something together. There's time-management and then theres just plain sloppy. I can't even tell you how many times the project management triangle philosophy runs through my mind- I saw it in a movie once (I wish I could remember what it was!) and it has totally stuck with me.
Now that I'm finished, I've been staying up way too late following through on things I promised people I would help them out with as soon as I finished this semester. I was running around until after 10 pm last night trying to source flooring samples for a friend's condo (he's fixing it up to sell), and tonight I have been fighting with the square footages and trying to figure out where the transitions should go (he's been given solid hard wood left-overs and it seems a shame not to use them, but the challenge is not letting them look too patch-work-ish (the general rule of thumb is that you should not use more than 3 different flooring type in one home… I'm not even done school and already I'm breaking the rules- I think I figured out a pretty great way to do 4 and not make it feel disjointed.
I have been rethinking this blog thing. Now that pinterest has changed, every image I embedded from that site (but linked it to it's source) is now an ugly broken link.
Not pretty.
Not impressed.
The other side of it is that showing products/companies (like I did with Propellor lighting) is entirely different than showing things from someone's portfolio (art, photography, design). So, now that i'm getting a bit more of a hang for this design blog, I'm tightening up and figuring out how to go about it properly- which probably means less of a tumblr approach. I can't say what that will look like, but things are ever-changing and ever-growing.
Anyways, moving on,
Yesterday I assisted our graphic designer/photographer/media relations head and one of the designers to do a shoot on one of the finished homes. Let's just say, yesterday was a great day. Came out pretty inspired.
Another thing that's inspiring me is this bookshelf from Restoration Hardware. I find open shelving so hard to work with because it tends to make a space look cluttered. The screens on this 19th C Notary Bookcase are the perfect middle ground. They hide and display.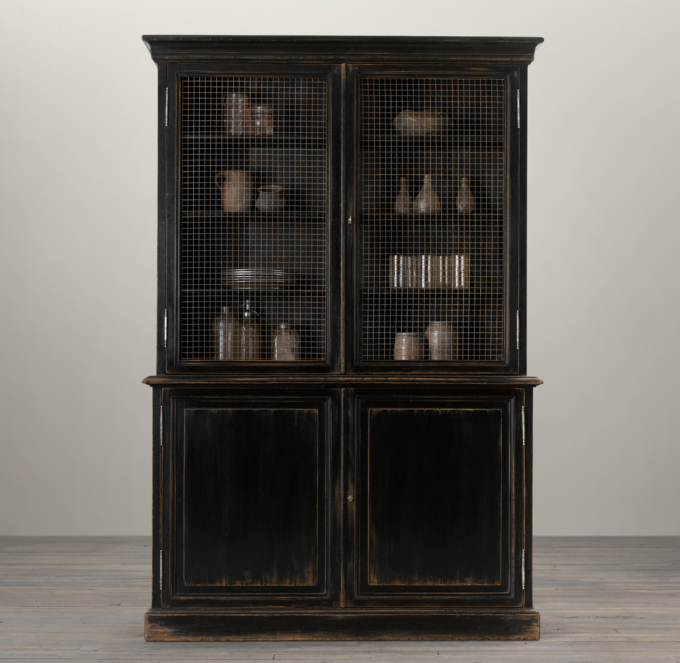 Ok. I've gotta research lettering. I have some banners to make for a friend's high school reunion.
Good Night.
Image from Restoration Hardware